As it has been a very busy summer this year, I must admit that I have been negligent in my duties writing blog posts. For that I apologize, assuming that anyone (other then me) will actually take the time to read what I write here (thanks mom)… but I digress. Please allow me to bring you all up to speed. Lets start with an update on the film in general. As we quickly approach the one-year anniversary of the international release of this gem-of-a-film, there was a LOT to be learned;
1. AOTB is not a festival film. After entering the film in over 8 festivals across the country, it was only accepted into one….and that one was right in my backyard! Trying to understand the art of the film festival proved a task not to be mastered (by this filmmaker at least). Yes, it was an expensive lesson as these festivals cost anywhere from $20.00 to $150.00 to submit a film. There is no guarantee that your film will be chosen, but there is a guarantee that you will NOT get your submission fee back. Nothing ventured, nothing gained…it was worth a shot just to get it out into the world. If anything, starting a film festival looks like it could be lucrative…hummm, might be a good way to fund another film?
2. Another good portion of time was spent on trying to find a way to offer the film (the actual DVD) to the rest of the people in the world living in countries other then the USA. Of course the film is still available for instant streaming via Distrify (you can find the link on the "Buy Now" page of this very web site)…and that has been going good with quite a few sales in the UK (thanks to all!), but still, getting the DVD shipped would cost more then the film itself. A few months back, eBay has started offering an international shipping service, so I have been listing the film there. Now I see in the news that UPS, FedEx and other shipping companies will be raising their prices this coming year…d'ough! Looks like the search continues.
3. Trying to reclaim my living room (it has been my audio post-production room for the making of this film), I finally designed and built a new room(on a tight budget of $700.00) during the month of August so I could get the living room back….and mount yet another speed bag platform in there! WooHoo! (that makes 3 platform in the house…can you tell I love the speed bag?) A very special thanks to Balazs Boxing for making such a solid platform that not only rebounds like no other, but looks GREAT in the living room.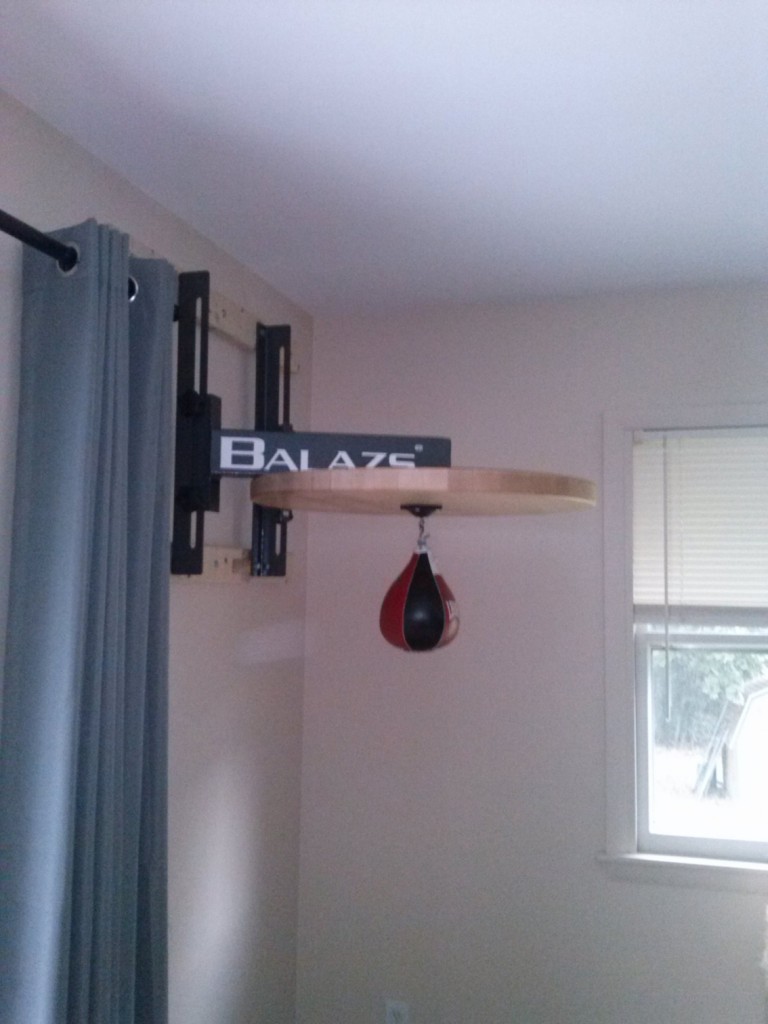 4. Now it's time to start looking into some more theater screenings across the country. Setting these up can be a lot of work but well worth it, so it's time to save-up a bit of cash and get the ball swinging again. the main goal of this film has always been to spread the work of bible-style punching and getting more people involved in this healthy & fun activity. Word-of-mouth is always encouraged, so please, tell everyone you can think of…and help spread the word of the bag to friends & family alike.
5. Finally… it's time to start helping organize the next SPEEDB.A.G. (Speed Bag Annual Gathering) to take place in July of 2015. If you've never been to this event, make a point of it. It's getting bigger & better every year and is THE place to meet some of the greatest bagger's in the country, do some hitting, learn some new moves, eat some good meals…and just have a blast with the nicest group of people you will ever meet. I wouldn't miss it. Hope to see you there….I'm thinking I need to screen the film (along with some out-takes) this coming year…don't miss the fun!
A busy summer to say the least…
-Zaza